Strangers
July 10, 11, 12, 23, 25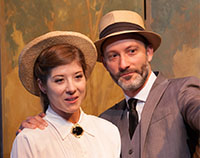 The Yalta Game by Brian Friel
directed by Michael Hewitt
featuring Laura Dickinson-Turner and Colton Dennis
This play examines a theme from Anton Chekhov's short story, 'The lady with the Little Dog', which Chekhov wrote in Yalta in the autumn of 1899. The Yalta Game tells the story of an accountant who holidays alone, leaving his wife and family behind in Moscow. While away, he plays the game of amorous dalliance and seduction, and happens on a young wife with her pet dog. They have a brief affair and part forever. But back home, they both find themselves obsessed by reveries and meet again to embark on a future of duplicity, ecstasy and perhaps of love.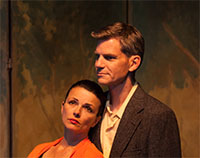 Elegy For a Lady by Arthur Miller
directed by Jenni Abbott
featuring Angi Holrodyd and David Hambley
A Man enters a small boutique, hoping to find a suitable gift for his young mistress, who is facing a grave operation. Unaccountably he finds himself confiding in the Proprietress, speaking without hesitation of the pain he feels at having his telephone calls to his loved one unreturned, of his fear that her condition may be fatal. The Proprietress consoles him at first, suggesting that perhaps the woman wants to spare him, then moves to help him understand his reluctance to make a true commitment to another person. This play is a revery – a waking projection the mind ventures into when it is stymied by life. In this brief, but intimate encounter, a "giver" creates a space that helps the man understand himself, his fears and his own ability to give.
Lovers
July 17, 18, 19, 24, 26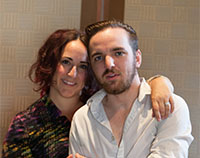 Mrs. Dally Has a Lover by William Hanley
directed by David Barbaree
featuring Lynette Borrelli-Glidewell and Ethan Hennes
New York Newsday says: "It has something of the quality of a Dorothy Parker sketch with its keen observations and deft portrait of a woman in love, knowing that this love cannot last. Mrs. Dally is well into her thirties, married to a man she despises and carrying on an affair with the teenaged son of a family living in the same tenement building. Despite its theme and its 'kitchen sink' locale, there is nothing sordid about Mr. Hanley's play. It has humor and an equal share of pathos. The boy is affectionate but inarticulate; the woman has larger dimensions in her efforts to sow romance and harvest beauty in barren soil. Her simple recital of the death of her only child and her reading of one of Donne's love poems mix drama and comedy with skill and sensitivity".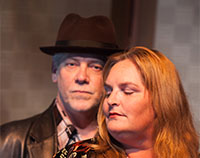 Some Kind of Love Story by Arthur Miller
directed by Jenni Abbott
featuring Carin Heidelbach and Jack Souza
Angela, a hard-bitten call-girl, is visited by Tom, a private detective of long acquaintance, who is convinced that she can supply information about a long-standing murder case. As Tom plays on their former closeness, trying to draw out the facts he seeks, Angela withdraws behind a schizophrenic screen of multiple personalities ranging from a brazen creature named Leontine, to a shrinking violet called Emily, to a haughty English-woman named Renata. Doggedly persistent, Tom tries to break through the fears which have driven Angela to hide the truth within herself. With chilling intensity she pours through a tale of duplicity and corruption and recounts how an innocent man ended up paying for the crimes of others.