2014 Short Play Festival
A Tru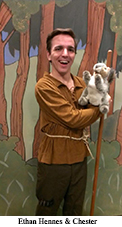 e Fairy Tale
Written & Directed by Sean Trew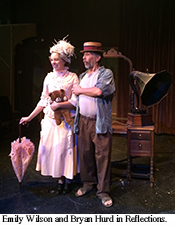 Reflections
Written & Directed by Bryan Hurd
(Based on a short play by David Hambley)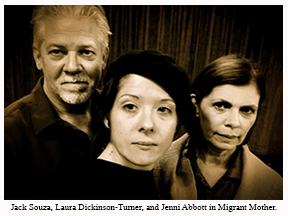 Migrant Mother ~ Written by Ken White  ~ Directed by Laura Dickinson-Turner
This year's short, ten-minute and one act play festival features three works by new and student directors presented in rotating rep over two evenings. Each evening's program runs approximately 90 minutes without intermission.
A True Fairy Tale opens this year's festival. A retelling of the familiar hero's journey told through the perspective of a most unlikely hero and his companions, this short is jam-packed with action and adventure, and includes a little music and a lot of fun.
 Performance Dates for 
 A True Fairy Tale
July 11, 19, 25, and 27 @ 8pm
July 13 and 27 @ 2pm
July 12 and 26 @ midnight
 Reflections is a lyrical tale of a young girl's discovery of self through a magical connection to her family.  Migrant Mother centers on Dorthea Lange's iconic photograph of the same name. Decades after it was first published, controversy arose over Dorothea Lange's process: was she as strict a documentarian as she claimed, or did she interfere with her subjects, posing and altering in order to achieve a specific shot?  Were her modifications to the moment justified by the artistic and social impact that her photos had?  Or did she cheat her subjects of their actual stories by fitting them into her frame?  Playwright Ken White's extensive research on Florence Owens Thompson (the subject of the photo) and Lange has resulted in a theatrical work that calls these two iconic women out of time and space so that you may hear their memories, their journeys, and their stories.    
Performance dates for Reflections and Migrant Mother
July 12, 18, 24, and 26 @ 8pm
July 20 @ 2pm
All tickets for this production are $10
Season subscribers may attend both programs using their single season ticket.
Reservations
Call: 209-549-9341
Email: ptp.modesto@gmail.com
Reserve online: prospecttheaterproject.org
Tickets may be purchased using a credit card by visiting us online at prospecttheaterpeoject.org - click here to go to our Calendar of Events.